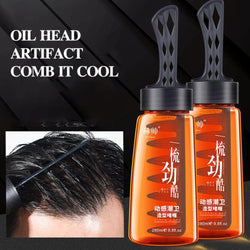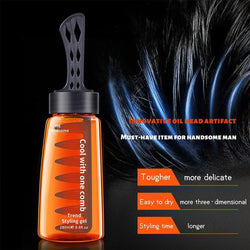 Bomini Y
280ml Professional 2-In-1 Hair Wax Gel With Comb Long-Lasting Fluffy Tool Cream Pomade Salon Hair Hair Mud Gel
Features:
1. 2 in 1 oily hair styling comb, matched with 280ml hairdressing gel and oily hair comb, make you relaxed, fashionable, and youthful.
2. Oily head cream contains rich moisture ingredients, which can treat skin and hair follicles, and can prevent split ends caused by dandruff and beard growth.
3. Easy to use, moisturizing, non-greasy, non-sticky, and can be used for a variety of shapes. Do not touch the paste, the hairstyle is tough and has no scales.
4. Use a comb to set the shape, and don't touch your hands directly. Not stiff, easy to clean, and has no residue. Refreshing, non-sticky, highly moisturizing, and non-greasy. Could you keep it for a long time?
5. The ingredients are natural, 100% pure argan oil and vitamin E. Not only can you look good all day, but you can also take care of your hair. Your best choice.
Specification:
Net content: 280 ml
Packing list
1 x men's styling cream/1 x oil hair comb