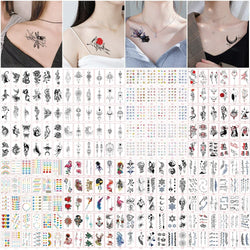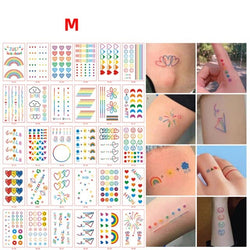 Bomini Q
30pcs/set Tattoo For Woman Hands Arm Body Waterproof Temporary Tattoos
Description:
Material: Sticker
Size:5.7*9.7cm
How To Use:
1. Cut out the tattoo you want and remove the clear sheet
2. Put the tattoo on skin or anywhere of your body
3. Use water to make the tattoo wet totally with a sponge or towel
4. After 30 seconds, remove the back paper carefully
5. Leave the tattoo to dry, then a beautiful tattoo finished
How to remove:
1. Pour a small amount of makeup remover or alcohol on the cotton pad
2. Cover the tattoo stickers for 10 seconds, then wipe back and forth.
3. After waiting for the pattern to completely fall off, wipe it with a paper towel.
Package Included:
Tattoo Sticker*30pcs