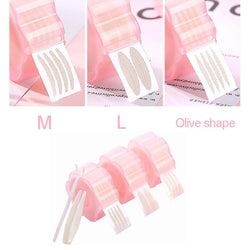 Bomini Y
Big Eyes Make Up Eyelid Sticker Double Eyelid Tape Fold Self Adhesive Stickers 360Pcs/Box
Feature:

Eye charm made to give you the look of bigger eyes, shaped in an arch to make it easier to apply.
It makes thin eyelids visible.
The shape of this double eyelid patch is suitable for various eyelids, and can better modify single eyelids and swollen eyes.
The eyeliner sticker was created by the makeup artists of the brand. As a result of its application, you will have smooth and rich-in-color eyeliner.
It helps you to make eye makeup in the style of smoky eyes.
It gives you the feel of perfecting this eyeliner contour.
There are 3 styles to choose: L/M/Olive shape please select the style you want.
Description:
Material: Fiber/adhesive strip
Condition: Brand new and high quality

Package Included:

360pcs eyelid sticker
1pc x fork
1pc x tweezers