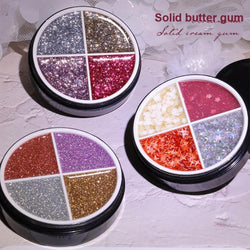 Bomini L
4 Color Solid Canned Nail Polish Gel UV LED Professional Phototherapy Painting Gel DIY Nail Art Design Nail Gel
Description:
The cream texture is delicate and smooth, light and moisturizing, and easy to spread.
Combination of 4 colors, full color, rich color, high color rendering.
One can of four colors, upside down, no glue, easy to carry, not easy to mix colors, basically can meet your needs for nail colors.
Easily apply color in one stroke, remove glue cleanly, and color evenly.
Many colors are available.
Small and light, you can easily create beautiful nails at home.
Very suitable for professional and personal use.
Suitable for all types of A.
How to Use:
1. Clean your nails then trim the nail surface as a normal nail prep process.
2. Apply a thin layer of base coat and cure for the 60s.
3. Use a UV gel brush to take out some solid gel polish from the jar.
4. Gently brush it on your nails starting from the free edge and cure for the 60s.
5. Apply a thin layer of top coat and cure for the 60s.
Notice: This product must be used with a primer seal, and it needs to be dried with a nail lamp.
Specifications:
Product material: plant resin
Net content: 20g
Product color: as shown
Shelf life: 2 years
Package Included:

1* Nail solid glue