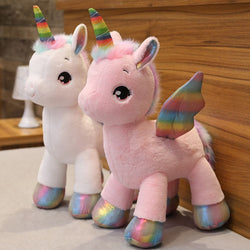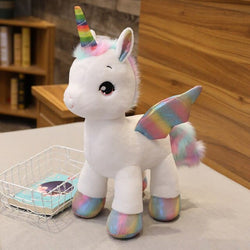 Bomini Q
Mythical Unicorn Plush Toys Cartoon Animal Baby Pillows
Description:
♥Colorful Toys for Happy Kids: Our soft and snuggly unicorn plush animals are any kiddo's dream come true. This mythical creature is fun, colorful, and simply magical, so your child can feel like he's in a fairytale every time he hugs it.
♥The Quality You Deserve: This stuffed plush unicorn is made with premium fabrics that stand out due to their softness. The large rainbow plush doll is so snuggly and soft, that your child can even use them as a pillow.
♥Premium Details: The unicorn stuffed animal features special sky bright shimmery accents that make it instantly stand out. The unicorn stuffy comes in either white or pink, so kids can pick their favorite and have fun in a world of color.
♥A Present to Remember: Get the unicorn toy as a Christmas, anniversary, birthday, or baby shower present for your loved ones. The plush unicorn is great for the little ones or for stuffed animal collectors who should not be missing a unicorn stuffed animal.
♥Safety First: Because they are primarily designed for the little ones, our unicorn stuffed animal is made with premium materials that check the highest safety requirements. They contain no BPA, phthalates, or lead, so your kiddo can hug his fluffy toy for as long as he wants to.
Note:
Please allow 5cm differences due to manual measurement.