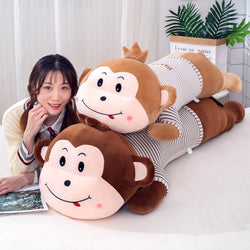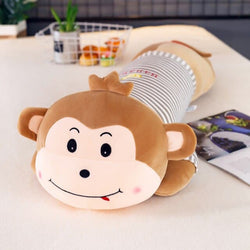 Bomini L
li Cute Large Hanging Hook and Loop Hand Monkey Plush Toys Stuffed Animal Knitted Boys Baby Doll Gift Presents
★BIG Promotion-50%OFF★

Description:
🐵 Our large stuffed monkey toy is soft, comfortable, and comfortable, and is the perfect companion for helping children sleep. If your child cannot go to bed, then the big hugs and cuddles of our stuffed monkey toy are all your child needs to dream. An excellent stuffed toy for children, but also the best gift for monkey lovers or plush lovers.
🐵 Material-This monkey plush stuffed animal is made of high-quality plush fabric. The filling is super soft and washable, which is safe for your children. The high-quality lining is very comfortable and can support your waist. All soft toys are suitable for hugging, comforting, and listening, and like to play and prank. The best gift for monkey lovers or plush lovers, suitable for home, office, nursery bed, children's room, car, and any place you like.
🐵 Everything is attached and sewn intact. There is nothing on the long monkeys (buttons, etc.) that may be dangerous to babies/young children. To better protect the long monkey, the long monkey is vacuum packed, please fold it several times to restore its normal size.
🐵 The perfect gift for kids-kids of all ages will love this stuffed long monkey plush toy to play with, and it can also be used as a large pillow for reading, watching TV, studying, and sleeping time. It is very suitable as a gift for Christmas, birthday, baby welcome party, Easter or other days to your loved ones, such as babies, toddlers, children, sons, daughters, grandchildren, children, adults, etc. Plush toys are not only children's toys, but also their soul mates, and they are also very unique home decorations.
Note:
Please allow 5cm differences due to manual measurement.