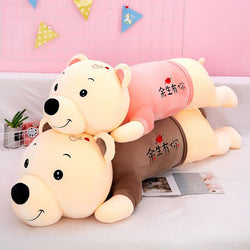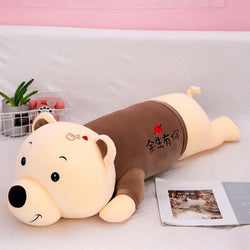 Bomini Q
Cute Lying Teddy Bear Plush Toys Stuffed Dolls Homer Sofa Bedroom Decor
★BIG Promotion-50%OFF★

Description:
♥Cotton 
♥Safety. The plush bear doesn't have any removable accessories or items that can be swallowed. Made entirely from PP cotton which is naturally breathable, never smells, resistant to static electricity, and washable! 
♥High Quality. The stuffed animal looks cute, cuddly, and adorable. Handmade plush toy is super soft, durable and will not easily tear or rip, and can withstand chewing and similar abuse. A medium-sized, floppy-bodied, durable bear pillow will e more interesting than one with delicate pieces of material.   
♥Washable. The cute plush bear pillow is washable to keep clean and presents a safe situation for the baby. 
♥If you have any dissatisfaction, contact us and we will deal with it within 24 hrs. We stand behind the product we sell.
t.