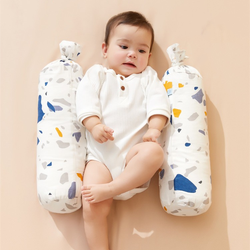 Bomini Q
Comforting Baby Multi-function Sleeping Pillow Babies Anti-spitting Milk Anti-fall Anti-shock Infant Sleep Memory Pillows
Specifications:
Name: Baby Sleeping Pad
Applicable Age: 0m+
Weight: 1pc 500g

Features:
1,Breathable and Comfortable: The portable crib mat is made of super soft and breathable 3D mesh fabric, which can keep the airflow constant and provide perfect ventilation for the head, back and neck.
2,Unique Design: It can keep the baby calm, which can also avoid slipping and help hold the baby in place. Adjustable leg support rollers made of fine particles can lift the baby's legs to a comfortable position.
3,Comfortable Head Support:The soft lounger can provide excellent comforts and support for your child's head and neck. The adjustable head support distributes the pressure evenly on the skull, which is very suitable for keeping the baby's head round.
4,Portable and Practical: Incredibly portable, lightweight, practical and easy to carry for travel. You can take our portable baby pillow with you wherever you go, such as hotels, dating locations, parks, etc.

Packing List:
1 x Baby Sleeping Pad

Notes:
Due to the lighting effects and shooting angles, there is color difference in the product, please understand.
Due to manual measurement, there is tolerance in the product size.