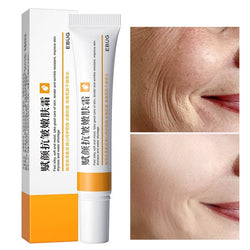 Bomini Z
Retinol Face Cream Whitening Dullness Moisturizing Tightening Skin Care
Feature:
100% new quality
Color: White
Specification: 20g
Status: Paste
Product Efficacy: Silky touch, care for the skin carefully, moisturizing and light wrinkles, improving dryness and dehydration of the skin, making the skin elastic and soft, delicate and silky
Ingredient:
1. Retinol, retinol, also known as vitamin A, converges pores in the skin,
After using skincare products containing retinol for some time, you can see that the skin becomes smooth and delicate.
And it can improve the whitening effect visually
2 . North American witch hazel, its branches, and leaves are rich in tannins, which have hydrophobic bonds with proteins
Condensation reaction occurs with hydrogen bonding, etc., which makes the skin shrink and tighten
Features:
1. Penetrate the bottom of the skin, the skin is prone to lose water after getting older. Wrinkles occur, this cream can penetrate the bottom of the skin to replenish moisture
2. Supplement the lack of nutrients, the nutrients contained in the skin rejuvenation cream greatly enter the muscle bottom, improving the nutrient imbalance state
3. The skin is smooth and elastic, the facial skin is nutrient-saturated, the surface layer is formed into a film to protect it from moisture, and the skin is firm, smooth, and elastic.
Shelf life: 3 years
Remarks:
1. Manual measurement tolerance is 2-5g. Please don't mind your replacement.
2. Due to the difference between different monitors, the image may not reflect the actual color of the item. I'm very much obliged to you!
3. SKU color is product color
Package Included:
1 *Wrinkle Rejuvenation Cream
Preview: