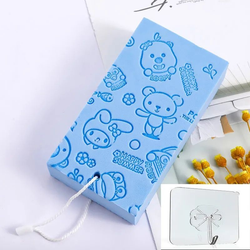 Bomini Z
Bath Sponge Body Dead Skin Remover Exfoliating Massager Cleaning Shower Brush For Kids And Adults Bath Shower Products
Description:
*1. Color: pink, blue, green, yellow
*2. Material: PVA
*3. Size: 13*7*3cm/5.1in x 2.75in x 1.18in
*4. Crowds: general to adults and kids
Specifications:
*1. Thickened high-density soft sponge, delicate and non-slip, can not only remove dirt from the whole body, but also effectively clean the skin. Cute cartoon patterns make babies love bathing more.
*2. High-density pearl sponge, with strong water absorption, naturally softens after absorbing water, and hardens after natural drying after use, without affecting normal use.
*3. Flexibile and durable for long-term use, tear resistant and flexible, no pilling, not easy to break. 
*4. It is made of environmentally friendly and non-toxic materials, soft and delicate, and does not hurt the skin.
*5. Soft and delicate touch, comfortable and soft to use, smooth and delicate surface will not hurt your skin during use. 
Note: Soaking in warm water for a few minutes before use is more effective. The effect of rubbing is determined according to the skin type and frequency of bathing. People who bathe frequently will have less dirt.
Use Method:
*1. Soak the sponge first, wet the sponge before bathing, and soak the sponge in water for about one minute. 
*2. Lift the bathing sponge soaked in water to wring it out.
*3. Wring out the water on the bath sponge, and then can use it to rub the skin.
*4. Before rubbing the skin, keep the skin moist, and then try rubbing the skin.
Package Included:
1*Bath sponge