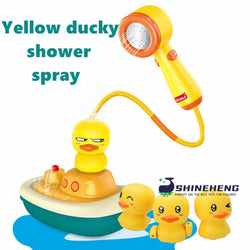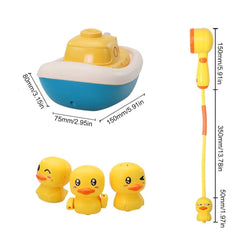 Bomini Q
New Bath Toys Baby Water Game Pirate Ship Duck Model Faucet Shower Electric Spray For Kids Swimming Bathroom
Material: Plastic
Plastic Type: ABS
Water spray duck size: 8*7.5*15cm
Duck height: 5cm
The total length of sprinkler: 55cm
Material: ABS Plastic
Function: Water Spraying Tool
Electric spray duck power: AAA battery (not included)
Type: Water spray duck + sprinkler, 3 * duck + duck boat (optional)
Features:
1. Two water flow methods: 360 degrees direction adjustment the soft water pipe is flexible and allows you to adjust the showerhead in any direction.
2. Water pump: Water cycle in the bathtub built-in electric water pump, keeps the suction end underwater, and the water flow can be released continuously.
3. Suction port: The bottom suction port needs to be completely immersed in the bottom of the water. It can better pump water without air or bubbles. If it is stuck to bubbles, it cannot pump water.
4. Scientific Design: The air pump can be completely immersed in the water. If the air gets stuck, it can't draw water, and the pumping is not smooth. The tube can be pinched to discharge bubbles.
5. Independent design: When the pump is stuck with the air or bubbles, the orange hose can be squeezed properly to discharge the air in reverse.
Package Included:
1 set * Duck Spraying Tool