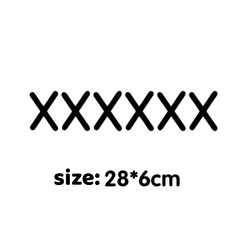 Bomini S
Car Stitching Patch Adornment Stickers Personalized Scratch Cover
Top quality and self-adhesive Vinyl material, 
water & high-temperature proof,
super reflective surface, elegant appearance.
3M glue fixed, durable,
and quickly applied to cars and motors.
easily remove without any residue.
Installation Notice:
1. Clean the car surface, and make sure it's dry and flat before installation.
2. Tear off the glue cover, and press firmly down on the designated place for 2 Min. (Glue stickiness enhanced if heated with a lighter).
3. No car washing within 24 hours after installation.