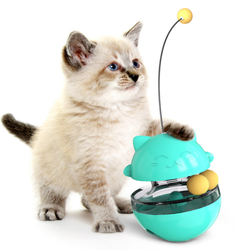 Bomini Q
Cat Toy Lucky Cat Shake Cat Funny Cat Stick Boring Artifact Track Ball Leak Proof Food Ball Toy
This is a versatile cat toy that combines many advantages of other cat toys. The toy uses a tumbler design. When the cat is playing, it will shake back and forth to attract the cat's attention.
There are two yellow balls on the rotating track at the waist of the toy. When cats are playing, they will always rotate on the track to increase their interest.

Delicious and fun, wear-resistant and bite-proof: light touch, food will leak.
  This is not only a cat toy, but also a food distribution ball. You can put cat snacks in a snack ball to attract cat interest. Toys can also regulate the rate of food leakage. Turn the turntable on the side of the toy to adjust the number of leaks. You can close two leak holes, or you can choose only one to open. Of course, you can also open two holes at the same time to speed up food leakage. Cats can get snacks with just one touch, which increases the fun of toys.    

Easy to operate and easy to train: cats will learn as soon as they learn.

Adjustble design of food dispensing hole.

Various colors for you to choose.