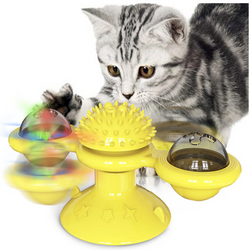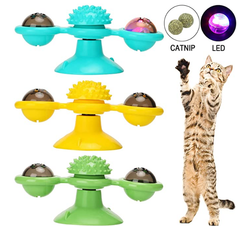 Bomini Q
Cat Toys Rotating Windmill with LED Lights Cat Toys Funny Cat Interactive Toys Catnip Ball Cat Brushes, Turntable Massage, Scratching, Molar, Suction Cup Toys
Suction cup design: The rotating windmill cat toy can stand upright or upside down, will not fall on the ground for up to 24 hours, and can also be attached to most flat surfaces, such as tiles, glass, bathtubs, mirrors, coated wood, etc.; it is recommended to paste Clean the surface of the pasted object before.
Non toxic materials: The windmill shaving hair brush is made of TPR and PC materials, has good ductility, soft and safe and safe to use, can allow the cat to massage without painful removal of fur or scratching.
Attractive scratching brush: a cat toy with a built-in light bulb and 2 mint grass balls, with hair and face rubbing devices in the package, which can be used as a cat's self-beauty tool, to modify hair, and also as a rubbing object.
Molar cleaning teeth function: Effectively clean cat's teeth dirt and ensure cat's oral health.
Removable transparent shell: The transparent upper shell and built-in items can be removed for your pet to play with.
Relieve anxiety: The cat turns the windmill toy to reduce the cat's anxiety and reduce boredom, enjoy the fun brought by the toy, and most importantly, you can leave the cat at home without worrying about the cat running around
Rotatable and windproof: The pet toys played on the turntable are equipped with transparent trash cans at both ends, allowing you to place glowing balls and bells to attract cats; when the windmill moves gently, the trash can will rotate. The light bulb will light up, this is an interesting toy that attracts the cat's eyes.

If you have any questions, please feel free to contact us, we will provide you with 24-hour service. Looking forward to your order.