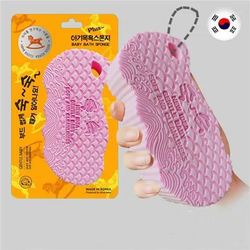 Bomini D
Children Painless Scrub Sponge Wash Dirt Rub Baby Scrub Towel
Soft Material: Made with soft PVA material. These sponges for bathing and exfoliating are perfect for both adults and children. Its super soft and fine surface is perfect for children's delicate skin. Natural cleaning and removing dirt and skin on the face and body can keep your skin soft, radiant, and healthy.
Bump Texture Design with a Hanging Rope: Bump texture design can deeply clean the surface of the skin, comes with a hanging rope for easy drying, no mildew or bacteria breeding, and can be reused indefinitely.
How to Use: You just soak for a while in the water, don't use soap, scrub your body with water with a sponge, and your skin will feel moist and smooth after use. It is a must-have item for your bathroom. By the way, it is not recommended to exfoliate every day.
Reusable Sponge: Our sponge can be repeatedly used. This sponge can last long. This product is suitable for all skin types, allowing you to relax after a long day at work.
Effective Cleaning: The bath sponge can gently massage the skin to remove dirt, with no irritation or damage to the skin. Keep your skin smooth and healthy. Bring you a comfortable feeling.