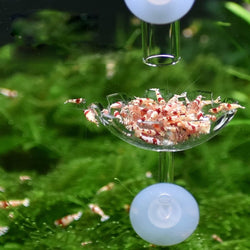 Bomini Y
Aquarium Fish Tank Shrimp Food Feeder Clear Glass Feeding Tube Dish Suction Air Shrimp Bowl Feeder Tube forFish Tank Feeder Tray
Description:
High quality acrylic material, durable and environmentally friendly.
Avoid shrimp food to drop between the bottom grains contaminating the water column.
Great for feeding your shrimp, small tropical fish, ratfish, etc.
And also can be used to crush wheat stalks, montmorillonite and other easily crushed objects.
Can be easily fixed on the fish tank wall. Perfect for all kinds of Aquarium, Aquarium.
Specification:
Material: Acrylic
Diameter: Approx. 6cm / 2.36inch
Height: Approx. 5cm / 1.97inch
Package Includes:
1 Piece Shrimp Feeding Dish
1 piece Suction Cup