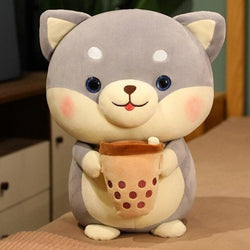 Bomini L
li Cute Milk Tea Shiba Inu Dog Plush Toy Stuffed Soft Touch Long Plush Lifelike Shiba Inu Dog Doll Birthday Gift
★BIG Promotion-50%OFF★

Description:
🐶Material and Features: 100% soft pp cotton stuffed Akita doggy toy. Stuffed with premium cotton. Safe and skin-friendly to close contact. The plushie is super cute and soft. Adorable plush toys for all ages and you can put them everywhere you want them to be as cute decor to make your life more adorable 
🐶Adorable is Everything! For all Akita dogs, Shiba Inu dogs, and Corgi lovers, this plushie is your best choice! Maybe it's hard for us to get a real one but it's easy for us to get a plush toy instead! Cute as the real one. Hug it and kiss it! We add additional cute elements and themes to make our toy more adorable! 
🐶Adorable Decor for Everywhere: Put it on the sofa so we can hug always, on the bed so we can sleep with and in the car so we can lay on... Just put it anywhere you want! Make you feel happy every time you see it even at a glance 
🐶Quality Cuddles for All Ages: No matter how older you are and no matter who you want to give it to, there are the cutest cuddles. No age limit gift. Play with it or put it in somewhere as a decor. Cute toy for kids' bedroom and adorable plush decor for the family playroom. Kids and adults all love it 
🐶Perfect Gift for Most Occasions: A cute stuffed plush toy is a good choice as a birthday gift for your children. Or a good gift choice for your colleague and employees... For boys who have cute girlfriends, these toys will surely be happy to get them... No one can resist such a cute plushie! Gift for all cute and nice people! Life is so wonderful and so adorable! 
Note:
Please allow 5cm differences due to manual measurement.