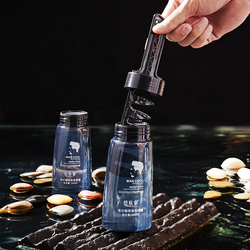 Bomini Y
Men's Hair Styling Gel Fluffy Moisturizing Matte Finished Strong Molding Cream
Usage of Hair Styling Gel
Step 1: Apply proper amount of hair gel in the palm of your hand.
Step 2: Apply hair gel evenly on the palm of your hand.
Step 3: Insert your finger into the root of your hair and apply it up and down to create the desired hairstyle.
Are You Still Worried About This?

1. Soft modeling: Styling is not durable enough, deformed when you go out.
2. Coarse hard hair: Thick hair stiffness is poor.
3. Difficult to clean, greasy, dandruff-like white substance.
Double Enhancement Of Appearance And charm
OutStanding hairstyle: Natural texture, refreshing and neat, glamour bonus points.
3 Seconds Quick-Drying Film
One touch in a hurry, you can get:
#Natural effect
#Long lasting styling
#Not oily or sticky
#Quick styling
#Fluffy and light
Various Hairstyles
Hair wax specially designed for men's hair styling can quickly help you create a natural and handsome hairstyle to double your charm.
Strong And Lasting
3 seconds dry film, lasting effect, natural shape, effectively nourishing hair and making your hair fluffy and light.
Easy to Clean
Water-soluble formula, easy to clean, non-greasy, residue-free, and will not have adverse effects on your hair.
Suitable Occasion
At Appointment
At Workplace
At Nightclub
At Sport Fitness

It is convenient for men to participate in various occasions, such as business cooperation, appointments, parties, sports, fitness, etc.