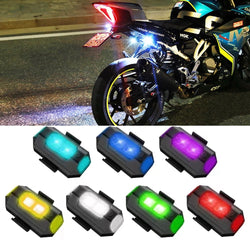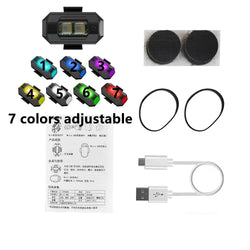 Bomini D
2022 TikTok Universal Electric Aircraft Lights Motorcycle Strobe Free Wiring Warning Lights Drone Model Pilot Lights
Product description:
Material: ABS Plastic
Color:black
Condition: Brand New aftermarket item, never used or installed.
Feature: UAVs, bicycles, electric vehicles, motorcycles, model aircraft, car models, fixed wings, and crossing machines can all be used
Suitable vehicle type:   Upgraded style Red/green/white/yellow/blue/purple/sky blue 7 colors and slow/fast flashing/SOS/constant light, etc., a total of 30 modes can be freely adjusted.
The light transmission is strong and clear and can be observed from 3 kilometers away.
The built-in 110mAh battery provides 7~ 8 hours of long-lasting work for a long working time.
30 Modes
0---Civil Aviation Mode
1---Seven color flash
2---Seven colors slow flash
3---SOS--white
4---SOS--Red
5---SOS--green
6---SOS--Blue
7---SOS--Yellow
8---SOS--Purple
9---SOS--sky blue
10--flash--white
11--slow flash--white
12--white
13--Quick Flash--Red
14--slow flash--red
15--Red
16--flash--green
17--slow flash--green
18--green
19--Flash--Blue
20--slow flash--blue
21--Blue
22--flash--yellow
23--slow flash--yellow
24--yellow
25--Flash--Purple
26--slow flash--purple
27--Purple
28--flash--sky blue
29--slow flash--sky blue
30--sky blue
*/with memory function
Product physical drawing