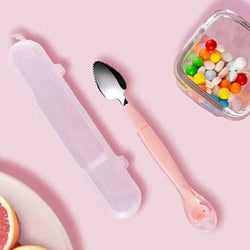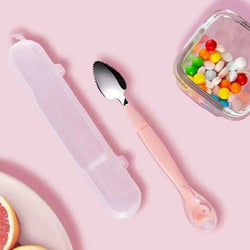 Bomini Q
New Baby Double Headed Fruit Scraping Spoon Non-slip Infants Feeding Spoon
Name: Baby puree spoon
Material: Food grade silicone/PP/304 stainless steel
Specification: Single card
Weight: 45g
Size]: 19*2.5cm 

【Features】:

1. Select soft silicone and 304 stainless steel for food contact, which is safe, odor-free, BPA-free, flexible and resistant to falling without fear of high-temperature disinfection.

2. Double spoon head design, one spoon is used for scraping and feeding, the precision serrated spoon head is used to scrape the pulp, and the soft silicone spoon head does not hurt the gums.

3. The double-sided sawtooth design of the mud scraping spoon head, with 90-degree double rounded teeth, does not scratch the hand, does not hurt the mouth, the edge is finely polished and rounded, and the mud scraping is easier.

4. The built-in cartoon pattern is cute and cute, attracting the baby to eat complementary food to improve the taste and arouse the baby's appetite.