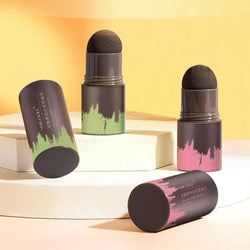 Bomini Y
New Dry Shampoo Powder Fluffy Hair Treatment Greasy Control Disposable Powder Hairline Dry Lasting Quick Oil Long Hair
Description:
Type: Hair Line Shadow Powder
Hair Type: All hair types
Gender: Unisex
Efficacy: Modify hairline contour
Feature
1. It is used for filling the hairline, filling your hairstyle, and covering your white hair. 2.  Naturally neat hairline modification powder Beautify the forehead curve, natural pastel color Waterproof and sweat-proof formula, long-lasting makeup, and easy to color.
3.  Soft powder, easy to even color, and covered with white hair.
4.  Easy to carry, with a mirror and puff, you can apply makeup anytime, anywhere.
5.  It is useful for all kinds of people, especially those who have the trouble of high hairline. 
6.  Modify uneven hairline edges to blend well with hair color.
7.  Fine texture, fine powder shape, light-weight powder gently smear on the skin, modified hairline.
8.  Lightweight and easy to carry. It is not easy to remove makeup and the uneven natural and flawless.
Note:
Avoid breeding of bacteria, should be placed in a dry and ventilated place to dry. Dried konjac puff will harden, it will return to soft after soaking in water.
Thanks for your understanding.
Package Included:
1pcs Hair Line Shadow Powder