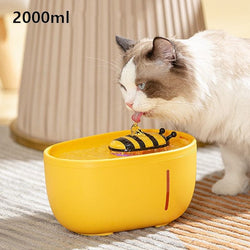 Bomini Q
2L Pet Water Fountain Honey Bee Cat Water Dispenser Auto Feeder for Cat Fountain Recirculate Filtring Drinker for Cats Supplies
Material: ABS+PC
Size: 230*161*128mm
Features: USB charge, 2L large capacity, ultra quiet, circulating drinking water
How to Use:
1. Before using the filter element, soak it in water for about 10 minutes.
2. Rinse the water tray, filter element and tray of the water dispenser several times, pay attention to cleaning the water pump    separately, and keep the USB port of the power cord dry.
3. Add drinking water to the bucket, below the highest water mark or above the lowest water mark.
4. Install the water pump, drinking tray, and filter element in sequence.
5. Automatically power on when the USB power cable is connected to the power supply.