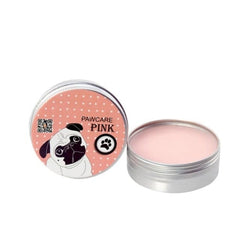 Bomini Q
Safety Health Anti-cracking Pet Paw Care Creams Ointment for Dog Cat Paw Moisturizing Protection Forefoot Toe Pet Products
Product Description:
Color:Red,Blue,Green
Material:Propolis,Glycerin,Grape seed oil,Almond oil,Rose oil
Item Type:Pet Paw Cream
Feature:Non-toxic
Dog Size:Universal
Target Audience:Dogs
Size:4 cm/1.57"*4 cm/1.57"*1.9 cm/0.75"
Weight:10 g
Features:
1. The product propolis and glycerin can form a protective layer on the pet's foot to avoid the foot from being polluted and bacteria.
2. Help pets soften hard skins and reduce cracks in the paws of pets,release the pain of pets.
3. Pet materials are safe, healthy and natural, and pet cats and dogs will not be harmed by licking.
4.Easy to carry.You can take it easily when you and your dogs and cats go to travel.
5.Apply the dog's paw directly to the product, or apply a small amount of paste to the dog's paw. Apply evenly, especially to areas where the dog's paw is vulnerable and brittle.
Package Include:
1 x Pet Claw Protector Nature Ultimate Hand Cream
Notes:
1. Please allow 1-3 cm difference due to manual measurement and 3-5 g for the difference between different colors.
2. Due to the screen difference, the color may be a little difference from what you expect, please allow it.