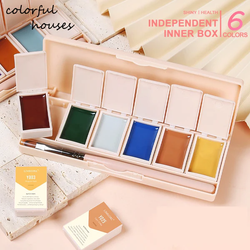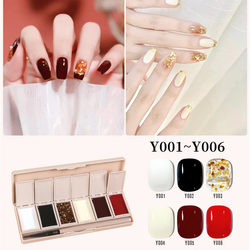 Bomini L
Six-Color Solid Pudding Cream Nail Gel Polish Quick Drying Solid Glue Painting Nail Varnish Solid Uv Gel Diy Nail Kit
Description:
(1)High quality and cost effectiveness.
(2)Easy to use Ideal for both professional nail extension and French nail making.
(3)Suitable for use with gel, acrylic or fibreglass applications .
Easy To Use
Specification:
Item Material: resin
Item Type: Solid Gel Polish
Color: as shown

Warm Tips
1. Keep tightly sealed and keep out of sunshine.
2. For external use only. Keep out of the reach of children.
3. Before applying base coat, please file and clean the nail surface, make sure that your nails are complete dry, clean and oil-free.
4. Apply in layers. No need to apply too thickly each layer. It is necessary to keep each layer thin and smooth.
5. Make sure the gel polish layer applied before gel paint is fully cured.
6. After the nail gel paint is cured, there will be a sticky layer on the nail surface. Please do not touch it before applying the top coat and curing it.
7. In a few hours after finishing your nails, try not to use your fingernails to open any cans, or other hard objects to keep the nail from wearing away.
8. Avoid skin contact. If allergy or any signs of adverse reaction occur, please stop using and cleanup immediately.
9. The first time you use the nail art brushes, soak it in warm water for a minute to wash off the sealing wax on the brush surface.