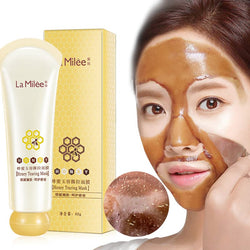 Bomini Z
Honey Tearing Mask Peel Mask Dead Skin Clean Pores Shrink Face Skincare Mask
Item Type: Honey Tearing Mask
Facial skin aging, fine lines, and blemishes
Oily skin strawberry nose
Nose large pores blackheads
People who work in front of computers every day.
Step 1: Clean your face with warm water.
Step 2: Apply a proper amount of this product and smear it on the face evenly.
Step 3: Wait 15-20 minutes, and the honey's nutrition is fully absorbed. Please peel it off from chin to forehead.
(Note: Due to the strong adsorbability and cleansing, you might feel a bit of pain when peeling it off. Please don't worry, it is normal.)
1. Due to different skin types of people, the effect varies from person to person.
You can adjust the using quantity and using area according to your need.
2. It is recommended not to use it more than twice a week.
1 x 60g CITIZENS Honey tearing the mask