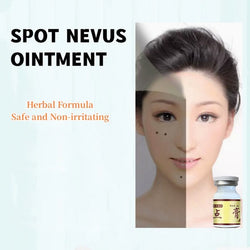 Bomini Z
Herbal Formula Ointment Skin Dark Spot Cleanup
Notice:After using the product within 24 hours do not touch the affected part with water, under normal circumstances scab off scab time is 7~10 days, can not pick off the scab, must wait for it to fall off naturally
Volume: 5ml
Apply way:Apply on the spots
                ( Big black spot 20 seconds,Small spot 10 seconds)and wipe down.
                   If there is severe pain, please wipe it off immediately and stop using it.
Attention:
1.It  can't be used on sensitive parts (around the eyes, scalp, eyebrows, lips, underarms, private parts), and it is forbidden to use on scars and allergies. Small dark spots can be used, large ones cannot(should not exceed the size of a mung bean)
2.It is forbidden for pregnant women, and it can only be used over 5 years old, and it can be used under the supervision of parents under 13 years old.
3.The product can only be placed on the mole, do not exceed it. Wipe off immediately if applied to clean skin.
4.You can only use 2 affected areas at a time, and wait until it is completely healed before continuing.