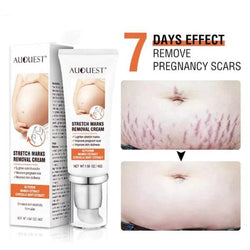 Bomini D
TikTok Maternity Stretch Marks Removal Cream Scar Remover Cream
Your life should not be disturbed by stretch marks after giving birth to a baby. Our Stretch Marks Removal Cream is made with several natural ingredients including glycerin, grape seed oil, jojoba oil, and so on. It can effectively and gently lighten stretch marks and improve the pregnant scar. Bring back your smooth and tender belly, bring back your happy life.
Specification
• Net weight: 1.58 OZ / 45g
• Suitable: women
• Apply to Abdomen,Leg, Chest,Buttock
• Fragrance: No
Effect
• Lighten stretch marks;
• Improve pregnant scar;
• Improve skin dullness;
• Enhance skin elasticity;
• Firm skin.
Feature
• Compared with other stretch mark creams, it is easier to be absorbed and not greasy when used.

• The squeeze pump head design is more convenient and sanitary.
Usage
• For Abdomen: Take the navel as a starting point and put your hands on the abdomen. Massage in a clockwise circle for 3-4 minutes;
• For Leg: Put your palms on your knees and gently push your knees to the inside of your thigh for 3 minutes;
• For Chest: Massage the breast from side to side, massage from the underside of the breast to the collarbone for 3 minutes;
• For Buttock: Place your hands on the sides of your hips, from bottom to the top and massage from inside to outside for 3 minutes.