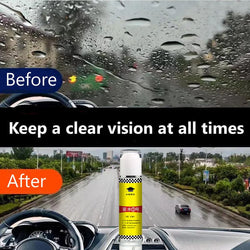 Bomini D
TikTok Car Water Repellant Spray Clear View without water
Description:
Volume: 80ML
 Feature:
Made of high-quality material, it will not cause damage to the car's rearview mirror and glass.

The product forms a layer of hydrophobicity coating on the surface of the automotive mirror, which can keep the driver's sight clear when driving on rainy days.

Easy to use and operate, spray it on the glass mirror and wipe it, good use effect.

Extensive Compatibility. Suitable for rearview mirror of cars, buses and other vehicles, and other glass mirrors.

Compared with the common rainproofing agent, the coating of the product is not easy to be washed off by heavy rain, and the durability is stronger.
Steps to use:
1. Wash the car
2. Dry
3. Lightly apply the spray to the finish
4. Gently polish with a clean towel in a circular motion