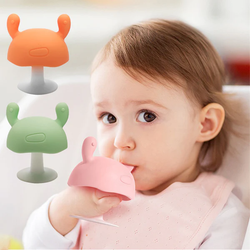 Bomini Q
Baby Teether Silicone For Boys Girls Mushroom Doll Infant Teething Toys Bpa Free Soothing Chewing Toddler Appease Gum Nipple
1. It is designed according to the shape of the breast + nipple, and the skin is soft like silicone.
2. Help premature babies with cupping and sucking. Suction cups are only developed in the last month of pregnancy. Therefore, premature babies will not have suction pads, and more sucking practice will help them.
3. Reduce finger sucking, oral habit: the small hand inside the mushroom grabs the stem to prevent the baby from digital sucking. Easy to clean, store and disinfect. Does not contain BPA, dishwashers, refrigerators, and sterilizers.
4. With the functions of soothing and sucking, the baby can learn the hand-mouth bite, thereby promoting the development of motor skills.
5. 2-in-1 use, turn the head over, and turn it into a fun snack cup. Eat and play while having fun. Stimulate your baby's curiosity and explore the wonderful unknown world
Material: Silica gel
Size: Total length: 8cm/3.1in (Please refer to our size picture for details)
Package includes: Teething stick*1 pc