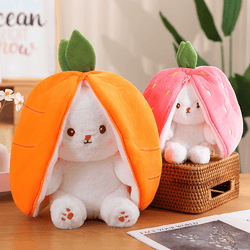 Bomini L
Hide-and-Seek Cute Rabbit Plushie Strawberry Carrot Plush Toy
SOFT MATERIAL: Easter bunny, fine workmanship without extra design, easter stuffed animal, stuffed bunny, quality, safe and friendly soft plush fabric and PP cotton filling make this qualitied Easter hide-and-seek bunnies in carrot pouch, which is durable and long-lasting. Easter Decoration Bunny in carrot and Strawberry pillow are so cute that all boys and girls will love it.

BUNNY PLUSH TOY: The features an adorable look bunny stuffed animal that can be wrapped in carrots or strawberries. The plush bunny rabbit stuffed animal long fluff is skin-friendly and ultra-silky. The comfortableness is beyond words and the touching experience is the most distinctive features. Soft and flexible design makes this plush bunny perfect for cuddling. Vivid color are brilliantly and beautiful Statement!

LOVELY AND EXPRESSIONS: Easter bunny stuffed animal, cute stuffed animal, easter plush, whether to display on a bedroom shelf with his lovely shape, added to an Easter gift basket or to be tucked under your little one's arm ready for daily play, this cute bunny is the rabbit for the job. Perfectly detailed with soft fabric, cute carrot and kawaii strawberry.

PERFECT GIFT: This rabbit stuffed animal, easter bunny plush is very suitable as gifts for family, friends or little pals. Easter bunny is regarded as the creator of new life. This Easter Bunny Gift Rabbit Doll Toy will company your kids to create more vitality and joy in your warm home. Who does not love adorable bunny and cutist baby?

SUITABLE SIZE: Stuffed rabbit, rabbit plush, stuffed easter bunny, stuffed bunny rabbit, stuffed animals for girls, the size of the bunny is small but the right size allows him to be used not only as a home pillow but also as a waist cushion and even as a nap pillow for the company.